Renovation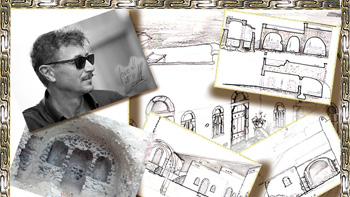 These caves were excavated and inhabited in the late 18th century after the explosion of volcano in 1707. After the earthquake of 1956 the front part were destroyed and ruined. At 2016 it was reconstructed by architect Stogiannidis Grigoris (Glygoris) and team of builders.
Explore the spirit of Auracaves
The power of the volcanic island of Santorini creates an energy that overwhelms the senses.
The word "vedema" is Italian and stands for the harvest and the harvesting season on the island. On the celebration day of Aghios (St) Averkios, on the 22th of October, barrels are opened and wines are tasted. Festivities with songs and dances follow.
The festival entirely dedicated to the volcano eruption that changed the landscape of Santorini forever in the mid-second millennium BCE. Each September in Santorini takes place a very particular event…
Greek Easter in Santorini. If you wish to participate in a unique traditional celebration then in Pyrgos village in Santorini you will find the most impressive Good Friday procession in Greece.
 Our Gallery
Santorini erupts with charm. A volcano embraced by the Aegean, this island-phenomenon in the Cyclades gives its visitors a mythical experience.
Santorini – also known as Thera in Greek – is the island immortalized by poets and painters, thanks to its celebrated light, multi-coloured cliffs and picture-perfect sunsets.